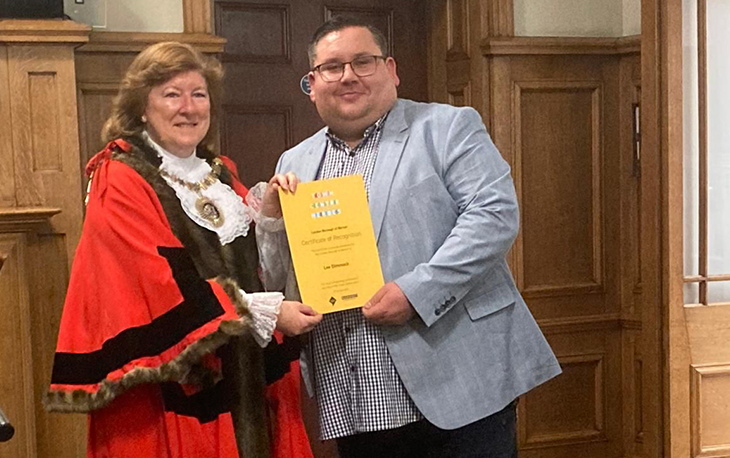 The Mayor of Barnet has presented an award to a funeral director for going above and beyond for the local community during the Covid-19 pandemic.
Lee Dimmock from W H Putnam Funeral Directors, Edgware, was given the Town Centre Heroes Certificate of Recognition by Mayor Alison Cornelius after being nominated by a local business.
He said: "I was shocked to be nominated, yet alone win, and I accept the award on behalf of all my hard-working colleagues at W H Putnam.
"During the pandemic, people in the funeral profession have put themselves at risk trying to help families give loved ones the send-off they deserve, and it's great to see the recognition."
Part of the Discover Barnet campaign, the Town Centre Heroes sees local people nominate those who have gone above and beyond to serve their local community.
As a trusted business that has served Edgware for over 30 years, Town Centre Heroes approached Aspens Florist for recommendations and learned about Lee's hard work.
Amelia Engeham from Aspens Florist said: "A representative walked into our shop and asked if there was anyone we wanted to nominate, and Lee immediately came to mind."
Amelia's colleague, Jenny Matthews, added: "We've worked with Lee for a number of years, and he always goes above and beyond in his job. He once dog sat for a family who couldn't find anyone to take care of their pet during their loved one's funeral."
Lee answered a series of questions about his duties at W H Putnam and impressed judges, with Mayor Alison Cornelius awarding him the Certificate of Recognition at a ceremony in Barnet.
Lee said everyone nominated should feel proud: "Even if you haven't received an award, you have been recognised by someone.
"It's hard to recognise everyone's efforts, so be proud in knowing that you're making a positive impact on your local community."